WHY YOU SHOULD BE GRILLING WITH MAYONNAISE
For many of us, summer doesn't officially commence until we fire up the grill. This is the season of outdoor parties and cookouts, as those of us self-professed grill masters and weekend warriors deftly show off our live-fire cooking skills in front of family and friends. That is, until the grill flares up and those beautiful steaks are reduced to charcoal and we're peeling them off the grill through a cloud of smoke.
It's an all-too-common tragedy played out in backyards everywhere. What if there was an easier way?
My challenge was always fish, which would glue itself to the grill whether I oiled the fillets, or the grill racks, or both. But then I noticed chef Michael Cimarusti lightly brush delicate halibut fillets with mayonnaise before grilling. Yes, mayo — the stuff of cafeteria bologna sandwiches and picnic potato salads. Cimarusti, who knows his fish, is chef and owner of Providence, No. 1 for the last few years on Jonathan Gold's 101 Best Restaurants List. He uses the technique at the restaurant, and when I asked him about it, he explained the mayonnaise keeps the fish from sticking to the grill. He adds a very thin layer, "so it's almost not there."
This isn't the first I'd heard about cooking with mayonnaise….
BUILDING A BETTER BROWNIE
There's nothing like the the sight of a freshly baked batch of brownies. And not just for those of us with a sweet tooth. Most people — well, the fun ones — are brownie fans, which is why we see them everywhere, from potlucks to office parties, birthdays to school lunches. Rich to the hilt and unapologetically messy, a great brownie is savored slowly, with your eyes closed.
And while there may be no such thing as a "bad" brownie, the best ones are truly memorable.
Chocolate, butter, sugar, flour and eggs, mixed together and baked in a pan. Simple as they may appear, there is a definite chemistry behind a great brownie recipe. "When we teach brownies, we always talk about listening and paying attention to the recipe," says Clemence Gossett, co-owner of the Gourmandise School of Sweets & Savories in Santa Monica. The ratio of each component, the quality of ingredients, and the method by which they are combined and baked can make a good brownie even better.
Over the last few weeks, I tested close to a dozen brownie recipes from a variety of sources both old and new….
A couple of weeks ago, I was out on the road in Northern California, heading southeast from Sacramento on Highway 16 toward the foothills of the Sierra Nevada. It's a beautiful drive, and on that blistering summer day I might have noticed the massive old oaks dotting the rolling hills or the occasional solitary weathered barn as the highway shimmered in the heat up ahead. But I was on a mission.

I hung a right onto Highway 49, heading toward the heart of California's Gold Country. "Historic 49," as it's often called, meanders through scenic little Gold Rush towns with names like Drytown and Sutter Creek before continuing on toward Jackson and Angels Camp, where one Samuel Clemens originally made a name for himself under the pen name Mark Twain, writing about a jumping frog. But I wasn't out for the scenery, or a history lesson.

I wanted pie.

Fresh blackberry pie, to be exact. I stopped in Amador City and walked down the wooden plank sidewalk to Buffalo Chips Emporium, a tiny storefront diner complete with an old-fashioned soda fountain, and ordered a slice of pie from owner Ashley Putz as she worked the griddle behind the counter.

It came still warm, its sugar-dusted crust glittering in the sunlight through the front window, the light, flaky exterior quietly shattering under the fork with each bite. Underneath, the rich berry filling oozed slightly — the thick, sweet glaze cradling tender, slightly tart berries that seemed to pop with every mouthful. It was magical.

To my mind, nothing celebrates summer quite like fresh fruit pie. It's as if we're taking the best the season has to offer — beautiful, vibrantly colored fruit nurtured to ripeness under a hot sun — and packaging that bounty in a tender, flaky crust. Like a gift….

HOMEMADE DOUGHNUTS? PIECE OF CAKE!
My favorite mornings growing up, I'd wake to the sounds of Mom busy in the kitchen, rolling out freshly risen dough as a pot of oil heated on the stove. I could soon tell by the aromas wafting through the house that the morning was going to be special.

Mom was making doughnuts for breakfast.

Before too long, we were picking out our favorites from the freshly frosted bunch. I always chose one of the long johns she shaped using a large dog-bone-shaped cookie cutter. My siblings and I would pile in front of the TV, all four of us propped against the family dog (a very big St. Bernard), devouring her creations as we fought for the remote.

The crisp, brittle crust of each golden-brown doughnut would give way to a warm and tender interior, delicately flavored and comfortingly fragrant. We'd savor every last bite, licking the rich chocolate glaze from our fingers as we watched cartoons.

There's something magical about the doughnut. You don't have to be Homer Simpson to swoon when you're greeted with all those bright colors and sparkly decorations in a doughnut shop display case. But no matter how wonderful they may appear, it's hard to find a store-bought doughnut that compares with homemade.

And believe it or not, they're really not hard to make. You can whip up a batch of cake doughnuts in about an hour. Put together a batch of yeast-raised the night before, and all you have to do is fry them the next morning. Making breakfast for someone special? Try a batch of French crullers, their thin, golden crusts yielding to the most delicate, lightly flavored interiors….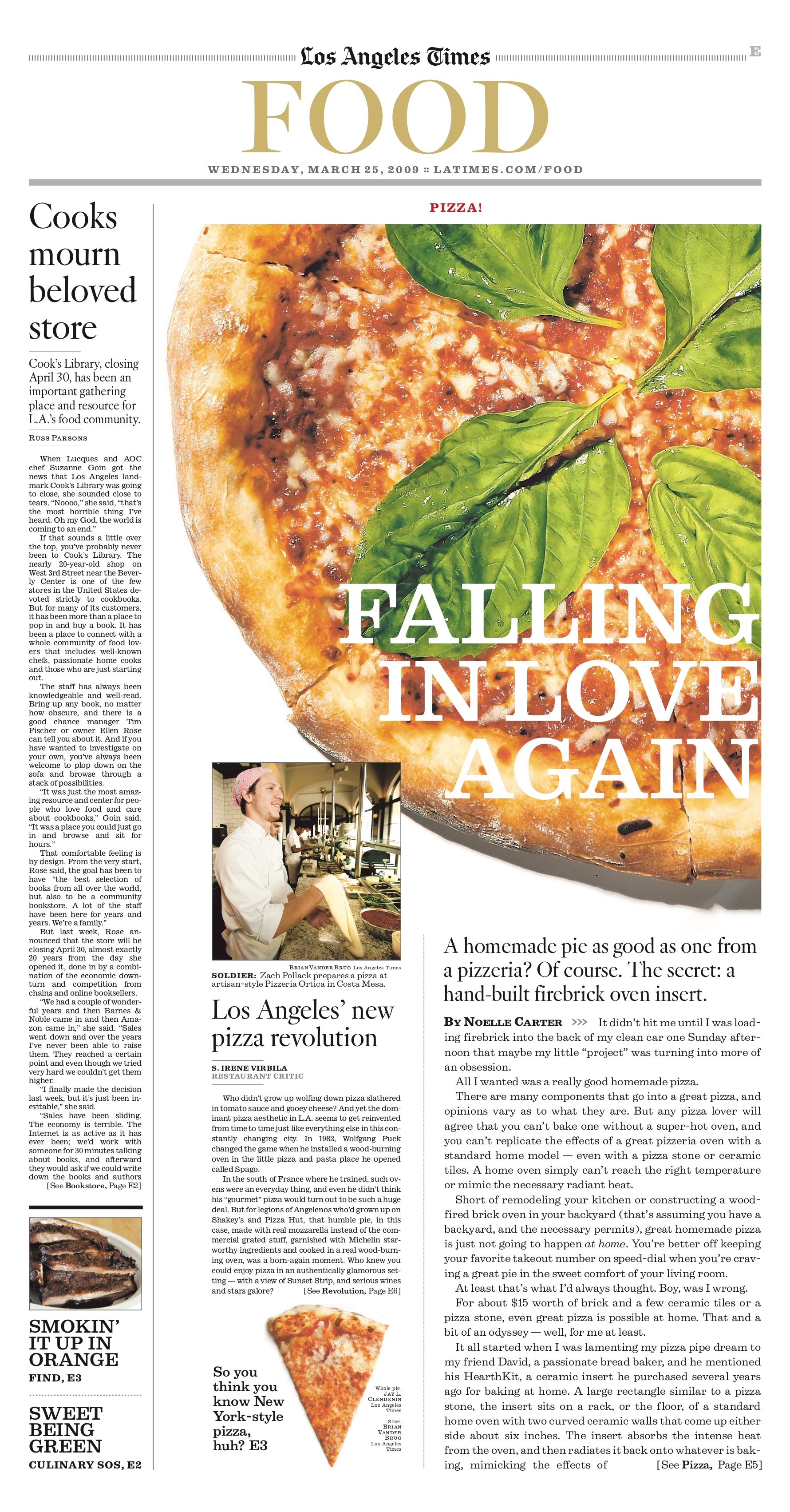 A PIZZA PARLOR IN YOUR KITCHEN
There are many components that go into a great pizza, and opinions vary as to what they are. But any pizza lover will agree that you can't bake one without a super-hot oven, and you can't replicate the effects of a great pizzeria oven with a standard home model -- even with a pizza stone or ceramic tiles. A home oven simply can't reach the right temperature or mimic the necessary radiant heat.
Short of remodeling your kitchen or constructing a wood-fired brick oven in your backyard (that's assuming you have a backyard, and the necessary permits), great homemade pizza is just not going to happen at home.
You're better off keeping your favorite takeout number on speed-dial when you're craving a great pie in the sweet comfort of your living room.
At least that's what I'd always thought. Boy, was I wrong….
SMOKING IN THE GREAT INDOORS
The other day, I just couldn't shake the thought of slow-smoking some ribs. I was in the mood for Memphis-style baby backs, the meat fall-off-the-bone tender, a simple dry rub tantalizingly complicated with deep hickory notes, the flavors drawn out with a tart vinegar-Dijon mop.
There's a primal wonder to smoked food — that such depth of flavor can come from so simple a technique. And then, of course, there's the lure of the sunny afternoon spent in a lawn chair with a cold beer while you're waiting, patiently, for the Weber to work its magic.
But then it started raining.
The audacity of winter. Even in Southern California, we have our seasons. I took a good long look at my kettle grill through the kitchen window as it rained, but those ribs wouldn't stop dancing through my head, like a song that just wouldn't let go.
Of course, not all smoking needs to be done outdoors, and I was not going to let the weather get in my way. Before long I was rummaging through the cupboard, looking for my large roasting pan. I grabbed a cooling rack, some heavy foil and a baking tin for a makeshift drip container and soon I was ready to smoke. Right in the kitchen. Right on the stove top. Rain or no rain.
Stove-top smoking is certainly not a new concept: Scatter some wood chips in a roasting pan, put the meat on a rack to sit above it. Loosely cover the pan and heat. Watch for the chips to start smoking and cover tight, then smoke to desired doneness.
Voila.
There's nothing complicated about stove-top smoking and I'd even argue that it's probably easier to master than smoking outdoors….
WHY YOU SHOULD BE BRINGING JELL-O TO YOUR NEXT PARTY
Standing in his Culver City test kitchen, chef Sang Yoon is holding what looks like a freshly used bar of soap, in a soap dish.
"So, it's basically a Jell-O shot," says Yoon of the dish, barely suppressing a laugh. "It's an interpretation of a mint julep buried inside a bar of soap," continues the chef, who is behind the lauded restaurants Father's Office and Lukshon.
As his pastry chef Megan Potthoff slices the bar in two, the dish begins to materialize: Bourbon-flavored gelatin with crème de menthe-infused tapioca pearls tucked into silky mint-flavored mousse and set in a soap mold, surrounded by sweetened mint tea "lather" — what may be the fanciest, most unexpected gelatin dessert in the city.
Yoon, whose Lukshon is currently No. 4 on Jonathan Gold's 101 Best Restaurants List, may be the last person you'd expect to consider putting gelatin on his menu. But the chef is intently philosophical when it comes to food and challenging expectations. "In the end we want you to say, 'Oh wow, this tastes like a mint julep.' But rather than go the direct route, we want to take you on a little ride."
When was the last time you had fun with Jell-O or gelatin dishes….
A SURE CURE MAKES FOR DELICIOUS FISH
There is an old road in Japan that runs from Wakasa Bay to the city of Kyoto known as the Saba Kaido, or Mackerel Road. For centuries, the road was used to carry fresh mackerel roughly 50 miles south from the sea to the former imperial capital during the time of the Tokugawa shoguns. Because there was no refrigeration, the prized fish were salted to preserve them for the journey. It's been said that if one transported the fish in a single trip, without sleeping, the brilliant blue fish arrived in Kyoto fresh and perfectly seasoned.
The art of curing is an ancient technique, born of necessity and found the world over. The process is simple: Combine salt, sugar and/or smoke to gently draw moisture from a food to preserve it over an extended period. Curing was especially instrumental in preserving more delicate foods, like fish.
Almost lost with the dawn of modern preservation methods such as refrigeration and canning, curing is making a comeback — and in a big way. Restaurants and chefs everywhere are touting cured meats, house-smoked specialties and homemade sausages. And, increasingly, cured fish.
BOTTOM'S UP: HOW TO MAKE GREAT FLAVORED LIQUORS AT HOME
Maybe the problem started when chocolate tequila hit the shelves. Or cherry pie whiskey. Or all the crimes against vodka, flavoring the spirit with bubble gum, smoked salmon, wedding cake and more. (Not kidding.) For some of us, just the thought of tequila-flavored rum is enough to induce a hangover.
The commercial liquor industry needs an intervention.
That's not to say flavored liquors are bad. Some — spiced rum, legendary gins — have stood the test of time for very good reason. Pairing your favorite alcohol with the proper flavorings can be a great thing, whether enjoyed in a cocktail or simply savored straight up. Luckily, given all those bottles of "wolf-berry" vodka, we don't have to rely on what's in stock at the liquor store. Flavored — rather, infused — spirits are simple to make at home….
CHILI: A BOWL OF RED-BLOODED AMERICAN HEAVEN
It's been called both a "bowl of blessedness" and the "soup of the Devil," and it's the stuff of legend.

Frank and Jesse James reputedly downed a few bowls before pulling some of their heists -- and supposedly spared one town because of it. O. Henry spun a short story around it, and Will Rogers allegedly judged a town by its quality. It's said Eleanor Roosevelt tried -- without success -- to get the secrets of one recipe, and that Lyndon B. Johnson remarked that the kind concocted outside his home state of Texas was "usually a weak, apologetic imitation of the real thing." Not even Elizabeth Taylor was immune -- she had whole quarts packed in dry ice and shipped to Rome while she was filming "Cleopatra."

I'm talking about chili, and I've been a devotee of the stuff for years now. There's nothing better when you're entertaining a crowd. And I don't know about you, but I'll be hosting a little football party on Sunday, and I plan to fix a big pot the day before. All I have to do is let it reheat while I entertain and watch the game and, voilà! Dinner is served. No stress….
LOOKS LIKE A WOK, BUT IT'S ACTUALLY A CONVERTED PLOW DISC. MEET THE DISCADA, 'LIKE A CAST IRON SKILLET ON STEROIDS'
Discada. Cowboy wok. Disco. Gwok. Plow disc cooker. Cajun wok. Disc grill. Outdoor wok. Disc.
Familiar with any of these names? If not, don't sweat it. Until recently, I was one of many outdoor cooking enthusiasts who had never even heard of the terms. However, if you are familiar, you're one of a small but growing number of passionate cooks who revere discada cooking, a style found in pockets of the American Southwest but similarly replicated around the world.
So, what is "discada"?
The name is one of a number of terms given to cooking outdoors on a converted plow disc – yes, those same discs mounted behind tractors and used to till and prepare the ground for farming; the term also refers to a mixed meat dish traditionally prepared on a plow disc that is popular in northern Mexico. Do an internet search and you'll turn up chat rooms and online forums, social media pages and dedicated websites, as well as a few commercial producers and custom fabricators…..